Elevate your business efficiency with ERP Microsoft Dynamics 365
Dynamics 365 takes your company to the next level.
It's more than a standard ERP software package; it's a complete business solution that is tailored to your specific needs.
The solution includes all the business management tools you need to control your company's entire operation from inside one system.
What is Microsoft Dynamics 365?
Microsoft Dynamics 365 is a cloud-based business management software for small and mid-market companies to large organizations.
It provides Enterprise Resource Planning (ERP), and advanced analytics in one unified solution. The solution enables organizations to manage operations, measure success, engage employees, serve customers and build lasting relationships.
Dynamics 365 also helps you drive growth and gain a competitive advantage - with sales, service, marketing, field service and operations capabilities.
This intuitive, easy-to-use interface and powerful functionality make the solution a perfect fit for your business.
Some features of the software include:
Pre-built dashboards, where users can make decisions faster while seeing the results of those decisions;
New ways to sell by giving your sales team access to real-time information about customer activity, allowing them to close deals sooner;
It is updated with the latest features and functionality so that your company can always access the most advanced tools possible.
Furthermore, it is a cloud-based platform accessed from any device with an internet connection.
Microsoft Dynamics 365 can assist all businesses, no matter the industry.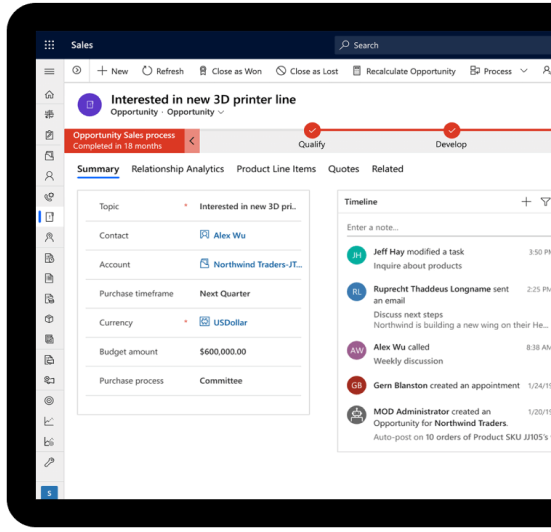 Dynamics 365 is the perfect business management software for organizations of all sizes. It provides enterprise resource planning (ERP), Office 365, and advanced analytics in one unified solution. Request a demonstration today to see how Dynamics 365 can benefit your business!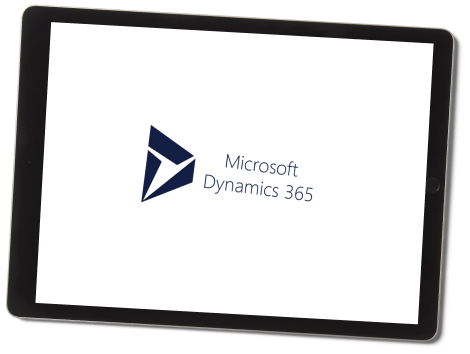 Kulana helps your business to inovate with Dynamics 365
Kulana's mission is to make it easy for business owners and managers to spend less time on administrative tasks and more time growing their companies, leading to higher profits, better customer service and happier employees.
The implementation of an ERP may be the answer. But with a unique twist. We adapt the solution to your unique requirements.
We start by assessing your current system and recommend ways that your company can be more efficient with your time and money. Whether you're just beginning or looking to upgrade, our team can provide professional guidance on how best to implement Dynamics 365 for your company's specific needs.
The process includes:
Consultation and Requirements Analysis;
Dynamics 365 Solution Design;
Dynamics 365 Development & Implementation;
Post-go-live support and training.
We understand that every business is different, so each Dynamics 365 implementation is unique. Our team of experts will work with you to understand your business and design the perfect Dynamics 365 solution for you.
The Benefits of using Dynamics 365
Dynamics 365 combines ERP and advanced analytics into a single solution to help businesses lower expenses, increase productivity, and improve customer service.
This tool is packed with features that can help companies manage their finances, track inventory, and oversee employee productivity.
The main benefits include:
Deploy an easy-to-use system that integrates with other products and Office 365 applications, providing organizations with a comprehensive solution for managing their operations;
Provides scalability opportunities, so you can easily adapt its features according to changing market demands without spending too much time;
Reduces the sales cycle time: sales teams can close more deals by having access to customer data and sales analytics in real time;
Automates tasks and processes to improve efficiency and increase productivity levels in your business' workflows.
Enhances customer experience by providing increased insights into prospects' needs for services or products based on their interaction history in previous orders;
Furthermore, Dynamics 365 is a cloud-based platform. Your employees can access the software from any device with an internet connection; this eliminates the need for businesses to purchase and maintain expensive software licenses and hardware.
Certifications
Kulana has partnered and works with the best partners in the industry to make sure we can provide our clients with the latest technology available. Our ERP consultants are Microsoft Dynamics Certified. We're also proud to provide the following certifications.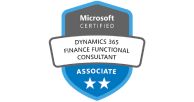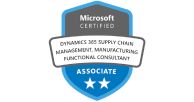 We're here to help you
Dynamics 365 is a complete business application used by thousands of companies. It has every feature you might need to run your organization.
Fill out the form. We'll contact you soon.
To request a quote, click the button bellow.
Send us a message